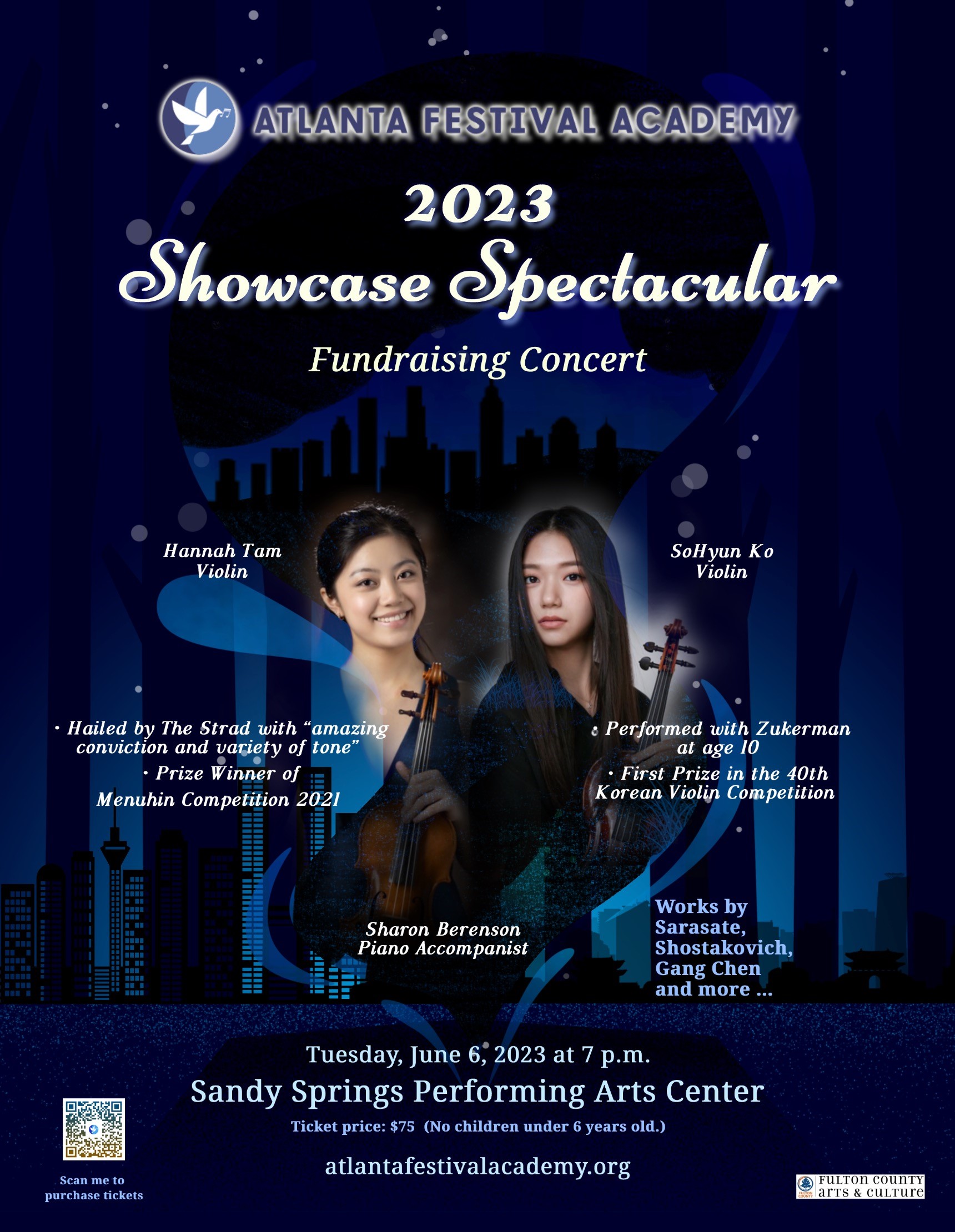 Atlanta Festival Academy's first ever fundraising concert will feature two incredible violinists, SoHyun Ko and Hannah Tam! 
SoHyun and Hannah will present a recital filled with virtuosic showpieces as well as Korean and Chinese masterworks which you won't want to miss!
All proceeds from this concert will go to AFA's Student Scholarship Fund.
  Please visit CitySprings.com/Events/AFAShowcase or call 770-206-2022 to purchase tickets.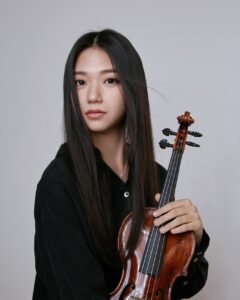 SoHyun Ko began studying violin at the age of 4 at the Korean National Institute for the Gifted in Arts. In 2014 the Stiftung Mozarteum in Austria invited the 8-year-old to Salzburg to perform using Mozart's original violin. Austria National television station ORF broadcast these performances throughout Europe. When she was 9 years old, SoHyun met Pinchas Zukerman in 2015, with whom she now studies at the Manhattan School of Music. Together they performed Bach's Concerto for Two Violins in 2016 in Korea. Their celebrated performance was widely broadcast on TV and published in Korean newspapers. In 2018, SoHyun was reunited in performance with Mr. Zukerman at Cadogan Hall in London performing the Mendelssohn Violin Concerto with the Royal Philharmonic Orchestra, conducted by Pinchas Zukerman.
Competition victories include the 40th Korean Violin Competition of the Hankook Ilbo in 2012; the 14th Korean Violin Competition of the Korean Chamber Orchestra in 2013; Mastmedia's 17th Korean Strad Concours in 2015; and the Adelphi Orchestra Young Artist Competition in 2020. SoHyun is an alumna of the Heifetz International Music Institute's PEG (Program for the Exceptionally Gifted) from 2018-19, and the main program from 2020-21. As of August 2020 she is studying at the Manhattan School of Music under Maestro Pinchas Zukerman and Patinka Kopec.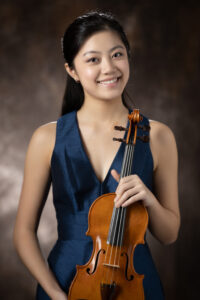 Hailed by The STRAD for "amazing conviction and variety of tone",  17-year-old Hannah Tam has garnered distinctive international accolades, including the Third Prize and Audience Prize at the Menuhin International Competition Junior Division 2021, the Audience Prize at "Mini Violin" of The Concours Musical International de Montréal 2019 where she was the only awardee, the Memorial Performance Award at the Kuhmo Chamber Music Festival, First Prize and Overall Winner of Concorso Andrea Postacchini in Italy, amongst others.  
Hannah has performed as a soloist and chamber musician in Japan, Finland, Italy, Germany, Austria, the Czech Republic, Canada and the United States; appeared in prestigious venues such as Suntory Hall in Tokyo, Kuhmo Chamber Music Festival in Finland and La Jolla Music Festival in San Diego.  Her concerto debut at aged 10 with the Virtuosi Italiani Chamber Orchestra in Verona was immediately followed by an invitation from the renowned cellist Trey Lee to appear with him as a double concerto soloist at the Musicus Fest, as well as a concerto appearance with the Hong Kong Philharmonic Orchestra under maestro Nicholas Carter.  
Click here to read the remainder of Hannah's bio!
If you are interested in sponsoring additional Atlanta Festival Academy scholarship-support opportunities, please contact us at (404) 518-8891 or Support@AtlantaFestivalAcademy.org.