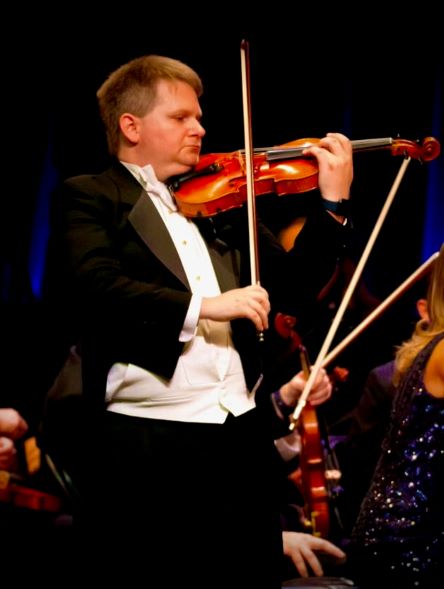 Grant Gilman earned his Bachelor of Music and Master of Music degrees at the Peabody Institute of Music in Baltimore. His undergraduate studies in violin performance were with Pamela Frank, Martin Beaver, and Misha Rosenker, and his graduate studies in orchestral conducting were with Gustav Meier and Markand Thakar. He also earned his Doctorate of Music degree from the University of Cincinnati College-Conservatory of Music (CCM), while studying with Mark Gibson.
Grant is an orchestral conductor known for his expertise in American orchestral music from the 19th-21st centuries. Grant was recently appointed Music Director of the Alpharetta Symphony Orchestra and Alpharetta Youth Symphony Orchestra. Grant is also Music Director of the East Cobb Chamber Orchestra, and Conductor at the Atlanta Music Project. Previously, he held the positions of Associate Music Director of the Round Rock Symphony, Music Director with the Harbor Opera Company, Resident Conductor with the Astoria Symphony, Assistant Conductor with the Cincinnati Chamber Orchestra, and Guest Conductor with the Virginia Symphony Orchestra. With a lifelong commitment to developing young talent, he has been Director of Orchestral Studies at the College of William and Mary and Christopher Newport University, Music Director with the University of Cincinnati Symphony Orchestra, and Orchestra Director for the Youth Orchestras of San Antonio Summer String Camp.
Recently, Grant launched a podcast titled American Muse (www.americanmusepodcast.com) centered around the orchestral music of composers from the 19th and 20th centuries. The podcast is complimented by his blog American Orchestral Music, and his forthcoming book Secrets of American Orchestral Music due to be released in 2021.
Grant has conducted orchestral and opera performances in Cincinnati; Newport News & Norfolk, VA; Round Rock & San Antonio, TX; New York; Baltimore; Toms River & Newark, NJ; and Greensboro, NC. Most notably, he led a Nutcracker performance with the Moscow Ballet in Baltimore's famed Lyric Opera House.