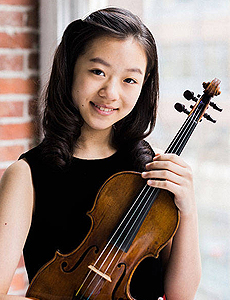 At the age of 12, Yesong Sophie Lee won First Prize at the 2016 Menuhin International Junior Violin Competition in London.  After her Berlin debut, Kultur Radio, Berlin wrote:
"Yesong Sophie Lee plays with an intense sound, as one who has played Bach for decades. Her seriousness and density of expression is amazing…one is almost reminded of Yehudi Menuhin… a huge talent." 
Her London debut brought praises from major newspapers:   
"In Summer from Vivaldi's Four Seasons, she showed poise right from the slow introduction and led the orchestra with remarkable assurance. She displayed a fine sense of line and had all the colours needed for the tone-painting essential in this music." The Telegraph, London
"… her composure was remarkable. Her playing was silk-toned, notable especially for the intensity it maintained even at the furthest tip of the bow, and a real homage to Menuhin in the way her vibrato extended seamlessly from note to note… The Guardian, London
"[I] was very impressed by her performance…she oozed confidence and ability, both musical and technical."  Early Music Review, London
Ms. Lee's other accolades include receiving the Composer's Award at the Menuhin Competition for her performance of the newly commissioned work, Shpigl, by Oscar Colomina i Bosch, winning First Prize in MTNA's 2015 National Junior Strings Competition, and soloing with the Seattle Symphony at age eight, having made her orchestral debut at the age of seven. She has been featured on NPR's From the Top, and also played at their fundraiser concert in Boston. 
Since winning the Menuhin Competition, she has soloed with London's Philharmonia Orchestra, Berlin's Konzerthaus Orchestra, and made a recital tour of the UK in 2016. The following spring, Ms. Lee performed a recital at the Gstaad Menuhin Festival in Switzerland, and participated in the final concert of the Violin Master Classes at the Kronberg Academy in Germany.
Highlights of the 2017-2018 season include performing the Bach Double Concerto with Joshua Bell and the Richmond Symphony, soloing with the Orchestra de la Suisse Romande in Switzerland, giving a recital in Geneva, and in the same festival playing a duo composed by and performed with Henning Kraggerud. In April, she will be appearing in the University of Washington Rising Star Series. 
Yesong Sophie Lee is an 8th-grader at Heatherwood Middle School in Mill Creek. She started violin at the age of four with Jan Coleman. She currently studies with Simon James and studio coach, Hiro David. She also feels very fortunate for having worked with Igor Ozim, Ana Chumachenco, Jaime Laredo, Robert Lipsett, James Ehnes, and Augustin Hadelich.
Her other interests include reading, drawing, riding her bike and playing with her brother Benjamin.