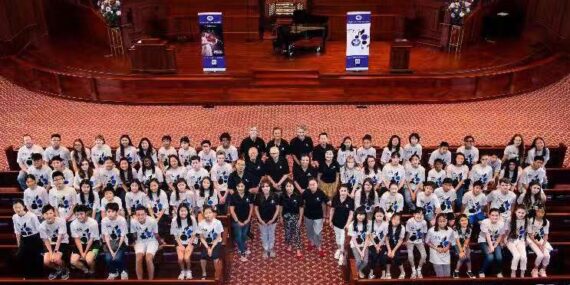 The Atlanta Festival Academy adds multiple unique and exciting music performance and education experiences to Atlanta, Georgia's already vibrant cultural scene.
The third annual Atlanta Festival Academy will enthusiastically build on the fantastic success of the festival's first two years in order to continue creating a unique music performance and education experience in Atlanta, Georgia. 
The three current components of the Atlanta Festival Academy are the Summer Camp, the Atlanta Festival Competition, and the Atlanta Festival Youth Orchestras. Launched in July 2019, the Summer Camp has already brought together dozens of students from around the world who, after just ten days of dedicated and personal instruction, amazed audiences of nearly two thousand people in three separate concerts. In July 2022 this event will occur as a Chamber Music Camp, with the Vega Quartet introducing 50 young musicians to the art and technique of chamber music performance. 
The founding organizations of this still-young endeavor come from three continents and four different countries. They are:
Lin Yao Ji Music Foundation of China (Hong Kong)
Menuhin Competition (United Kingdom)
Harpa International Music Academy (Iceland)
William Pu Music Academy (United States of America)
The Atlanta Festival Academy's faculty has an equally international reach, with teachers from China, Uruguay, Bulgaria, Iceland, Singapore, Taiwan, United Kingdom, and the United States all coming together to lead and train tomorrow's musicians.
The Atlanta Festival Academy invites young-, intermediate-, and advanced-student orchestral musicians from around the world to gather together this summer to learn from the best and, by doing so, become the best they can be. To this end AFA will:
Promote the education of young and talented musicians
Nurture a new generation of young musicians, and shine a spotlight on talented students
Give students opportunity to have private lessons, play in master classes, join chamber music, and play in Atlanta Festival Academy orchestras
Provide students with an opportunity to practice performance and communication
Serve as a platform for international cultural exchange and cooperation
The Atlanta Festival Academy also acknowledges and expresses its sincere gratitude to the organizations and sponsors that enabled our festival to launch so successfully; these include the State of Georgia, Fulton County Arts & Culture Council, City of Johns Creek, Georgia Music Foundation, Emory Johns Creek Hospital, WePartner Group, Atlanta Chinese Entrepreneurs Club,  and William Harris Lee & Co.
Sincerely,
Lin Wei, Amy Chang, and William Pu