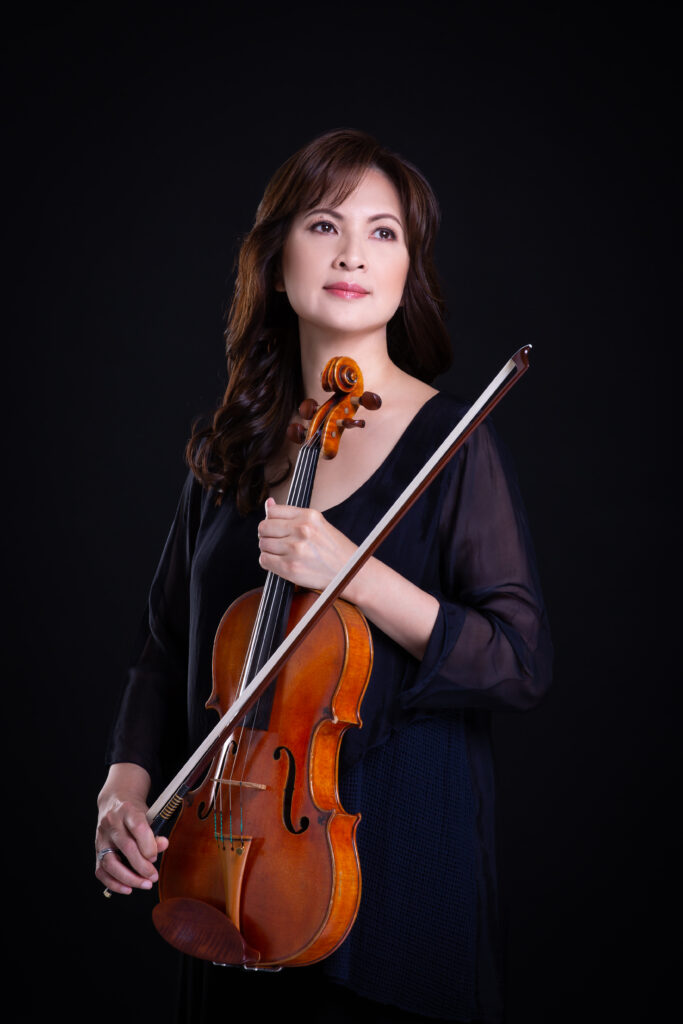 Amy Chang received her Bachelor of Music and Master of Music degrees from Rice University, Shepherd School of Music. Throughout her 25-year-long professional performing career, Ms. Chang has switched seamlessly between violin and viola, playing with world-renown conductors and soloists and touring Europe and the United States with both the Houston Symphony Orchestra and Atlanta Symphony Orchestra. For fourteen years, Ms. Chang was a member of the Houston Ballet Orchestra, the Houston Grand Opera Orchestra, and performed frequently with the Houston Symphony Orchestra. After moving to Atlanta in 2003, Ms. Chang played regularly with the Atlanta Symphony Orchestra, and the Atlanta Opera Orchestra where she served as Acting Viola Principle. Ms. Chang was a member of the viola section of the Atlanta Ballet Orchestra from 2005 to 2017. She has made numerous recordings with the Houston Grand Opera, the Houston Symphony Orchestra, and the Atlanta Symphony Orchestra, which was the recipient of several Grammy awards.
Ms. Chang was a winner of the Taiwan National Music Competition. An active chamber music musician, Ms. Chang was a regular guest artist at the Texas Music Festival and has performed in numerous chamber music concerts in Atlanta, Houston, Michigan, and Hong Kong. She was a faculty member of the Interlochen Music Festival in Michigan and was invited as a viola faculty member of the Asian Youth Orchestra in Hong Kong from 2009-2013. In 2016, Ms. Chang was invited to serve as the viola coach for the Harpa International Music Academy in Reykjavik, Iceland and was invited to give a viola master class at the Nanyang Academy of Fine Arts School of Music in Singapore in 2019. Ms. Chang was a violin and viola teacher at the Agnes Scott College in Decatur, Georgia from 2011-2018, where she also served as a Director of the String Chamber Ensemble.
In 2014, Ms. Chang and her husband, William Pu founded the William Pu Music Academy in Alpharetta, Georgia, a successful pre-college music school dedicate to providing high quality lessons to students of all playing levels and of all ages ranging from K-12, the Atlanta Youth Orchestra in 2016, a premium summer youth ensemble that provide professional orchestra training and performance opportunities for young musicians throughout metro Atlanta, and the Atlanta Festival Academy in 2019. The Atlanta Festival Academy is a non-profit organization, the first of its kind-international classical music festival to be hosted in the U.S Southeast. Every summer, it has attracted young musicians, renowned instructors, and world-class performers from around the globe. The Atlanta Festival Academy offers a myriad of resources and opportunities for helping to develop the next generation of Atlanta's artists. In 2021, they founded the Atlanta Festival Orchestras, the Atlanta Festival Chamber Orchestra and the Atlanta Festival Sinfonietta to offer young musicians the opportunity to explore the rich and challenging literature of the orchestra repertoire.
Ms. Chang's passion for music education has helped many of her violin and viola students win prestigious honors. Under her tutelage, her students have won local, national, and international competitions, participated in the Georgia Governor's Honors Program, won sections and principal positions in the local youth orchestras and all-state orchestras, and received scholarships in prestigious university music conservatories and programs.