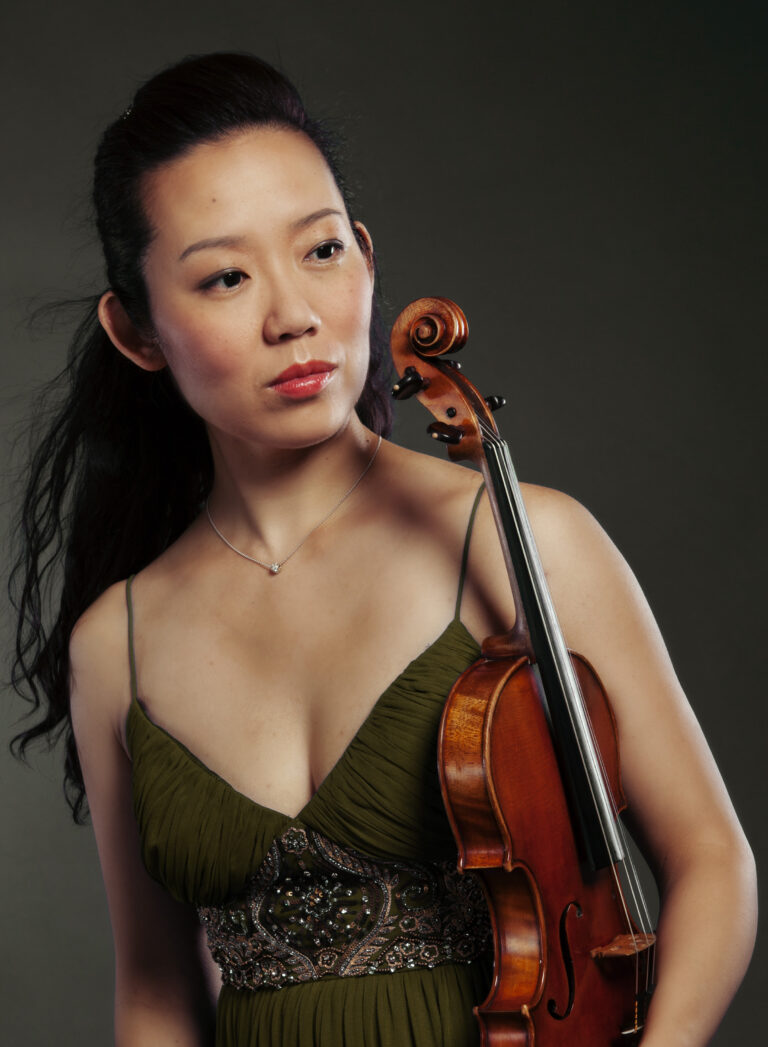 An established concert artist and chamber music performer, Ms. Wu collaborates frequently with many of the world's leading classical musicians. Past concert engagements have included appearances with clarinetist Richard Stolzman and pianist David Deveau in Bela Bartok's "Contrasts", as well as performances with guitarist Eliot Fisk and violinist Robert McDuffie. As a founding member of the Vega Quartet, Ms. Wu has performed extensively throughout Asia, Europe and North America. In 2018, the Vega Quartet made their debut in one of Europe's most prestigious venues – Amsterdam's Concertgebouw. In addition, Ms. Wu's concert appearances with the Vega Quartet include their critically acclaimed (The New York Times) Lincoln Center Debut and "a Triumphant L.A. Debut" (Los Angeles Times); all three concert halls at Carnegie Hall, Schneider Series; Harvard Club in New York; Vienna's Musikverein, Museum d'Orsay in Paris; Aspen Winter Concert Series; Chamber Society Series of Monterey Bay and La Jolla Concert Series among others. In 1999, The Vega String Quartet was awarded four of total six prizes at the Bordeaux International String Quartet Competition in France, including the International Music Critics' Prize. The Vega String Quartet's collaboration with Naxos Record Inc. on a CD featuring works by John Carpenter as part of the Twentieth Century American Music Collection is the only existing recording of Carpenter's String Quartet and Piano Quintet. The quartet's performances have been broadcast on NPR's Performance Today (USA), the National Radio of China, Shanghai TV, Radio France and the National Radio of the Czech Republic. In 2003-2004, as the visiting Coca Cola Artist-in-Residence at Emory University in Atlanta, the quartet performed the complete Beethoven Quartet cycle. In September 2006, the Vega Quartet began their full time Artist-in-Residence at Emory University
Ms. Wu appears regularly in numerous chamber music concerts with today's leading artists such as, Zuill Bailey, Andrés Cárdenes, David Coucheron, Sara Sant'Ambrogio, David Kim, William Preucil, Christopher Rex, Charles Wadsworth, and William Ransom.
Aside from being a dedicated chamber music player, Ms. Wu's achievements also include Top Prize from the National Society of Arts and Letters Violin Competition in 1996; Top Prize of the Fourth National Violin Competition of China; solo performances with the Shanghai Philharmonic and the Shanghai Soloist's Orchestra.
Ms. Wu holds a Master of Music Degree from the Manhattan School of Music, a Bachelor of Music Degree from the Harid Conservatory, as well as a Performance Certificate from the Shanghai Conservatory. Her teachers include Peter Winograd, Sergiu Schwartz and members of the Amadeus, American, Cleveland, Emerson, Guarneri, Julliard, Orion and Tokyo string quartets.
Currently, Ms. Wu serves on the faculty of Emory University as violin and chamber music professor.