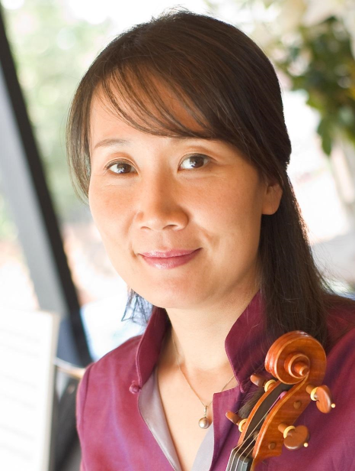 Wei Lin is proud to be 2019 Who's Who in Asian-American Communities' National Spotlight Honoree.
Wei Lin is the founder and Chair of the Lin Yao Ji Music Foundation as well as the Lin Yao Ji Research Center for Violin Pedagogy in China. She also founded and chairs the Harpa International Music Academy in Iceland and in 2019 co-founded the Atlanta Festival Academy in Atlanta, Georgia, USA. In these capacities she has organized and given master classes and concerts at the National Centre for the Performing Arts Beijing, Hong Kong Cultural Centre and Harpa Reykjavik Concert Hall and Conference Centre with internationally renowned musicians and rising young stars. She has been a juror/panelist  at numerous international competitions and festivals including the Lin Yao Ji International Competition for Violin Composition and the 4th Schoenfeld International String Competition.
Wei Lin was born in Guangzhou in 1964. She grew up in Beijing, where her parents were both professors at the Central Conservatory of Music. She began studying the violin with her father, Professor Lin Yao Ji at the age of seven, and the piano with her mother, Professor Hu Shi-Xi at the age of eight. She commenced her formal music training at the Central Conservatory of Music in Beijing where she continued studying the violin with Lin Yao Ji. 
In 1985, she received a scholarship from the City of London to study with Professor Yfrah Neaman at the Guildhall School of Music and Drama in London in the solo advanced study course, where she completed her studies in 1988.
Wei Lin has been a member of the 1st violin section in the Iceland Symphony Orchestra since 1990. During extended leaves of absence from the Iceland Symphony, she has served as concertmaster of the Hong Kong Pan Asia Symphony Orchestra and played with the Baltimore Symphony Orchestra and the Washington Chamber Symphony Orchestra in Washington, DC. She has appeared as a soloist and chamber musician with the Iceland Symphony Orchestra and various ensembles in Europe, the United States, and Asia. 
Wei Lin has been a violin teacher at the Reykjavik College of Music, the Purcell School of Music in London, and the Yip Academy in Hong Kong. She was her father's teaching assistant intermittently from 1996-2008. She has taught at the Reykjavik College of Music since 1990. She has taught and given master classes in Sweden, Norway, Denmark, United States, and China. Wei Lin was invited to give a talk about her late father Prof. Lin Yao Ji's musical life and his teaching concepts at the Royal Academy of Music in London during the Menuhin Competition in 2016.