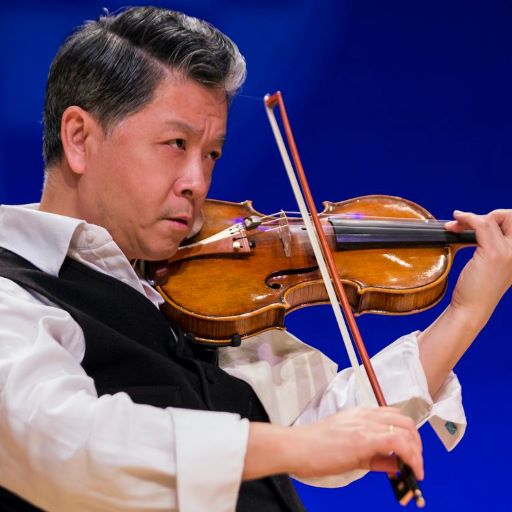 Violinist Yi-Wen Jiang was born into a musical family in Beijing where both parents were professional musicians – his father a Concertmaster for over 35 years and his mother a soprano soloist. After hearing Beethoven's violin concerto at the age of three, Jiang understood his life's path: to become a professional violinist.
His rise in the musical world was meteoric. Jiang made his concerto debut at the age of 17 in Beijing. He won the top prize at the first China Youth Violin Competition, paving the way for him to study with Professor Han Li at the Central Conservatory of Music. Afterward, he received a full scholarship from McDonnell-Douglas at the St. Louis Conservatory, and moved to the U.S. in 1985 to study with Taras Gabora and Michael Tree. After St. Louis, he enrolled in the graduate programme of Rutgers University, where he studied four years with Arnold Steinhardt. Jiang credits Steinhardt with having the most influence on his playing, followed by highly influential master classes with Pinchas Zuckerman. After his prize-winning performance at the Montreal International Competition, he appeared as a soloist with the Victoria Symphony and Montreal Symphony, and was featured at many international music festivals by the age of 22.
In 1994 Jiang joined the Shanghai Quartet and over the next 26 years performed over 3000 concerts in 37 countries. Innumerable collaborations with eminent artists included the Tokyo, Juilliard, and Guarneri Quartets; cellists Yo-Yo Ma and Lynn Harrell; pianists Menahem Pressler, Peter Serkin, Jean-Yves Thibaudet, and Yuja Wang – many of whom became lifelong friends. The ensemble featured at many of Europe's and North America's most prominent music festivals.
Active as a composer, Jiang has arranged dozens of pieces for string quartet and other instruments, many of which marry Eastern repertoire with Western influence. The most famous of these arrangements is a collection of Chinese folk songs called Chinasong, featuring music arranged by Jiang reflecting on his childhood memories of the Cultural Revolution in China. The set of 24 pieces was recorded by the Shanghai Quartet with Eugenia Zuckerman and released on the Delos International label in 2002. In 2018, 38 of these arrangements were published by Flower City Publisher in Guangzhou.
Jiang is Artist-in-Residence at the John J. Cali School of Music at Montclair State University and also teaches on the faculty at The Bard College Conservatory of Music.